Composite Push in Fittings, Push in Fittings, Pneumatic Fittings
For Metric / Inch Tubing, PT, R, BSPT, G, BSPP, NPT, UNF, Metric Connection Thread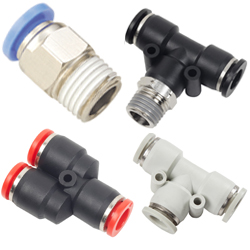 As a kind of pneumatic fittings, Pneuflex's composite push in fittings (or push to connect fittings) provide easy connection and disconnection tube without causing damage to the tube. Composite push in fittings become essential parts in pneumatic and fluid system. Pneuflex's composite push in fittings are available in a variety of types, moulds, sizes and thread types to satisfy various metric and inch tube demands. Our composite push in fittings could accommodate both metric size tubing and inch size tubing that are made from polyurethane, polyethylene and nylon. Composite push-in fittings are ideal for general pneumatic industrial applications.
Pneuflex's Composite Push-In Fitting Features
Optional shapes of Release Sleeve: As a manufacturer, Pneuflex can provide Oval and Round Release Sleeve
Multiple colors of Release Sleeve: Blue, Black, Orange, Red, Orange, Gray
Accommodate kinds of connection thread type: R (PT, BSPT), G (BSPP), NPT, UNF, UNC, Metric
Accommodate metric size tubing O.D: 3mm, 4mm, 5mm, 6mm, 7mm, 8mm, 9mm, 10mm, 11mm, 12mm, 13mm, 14mm, 15mm, 16mm
Accommodate inch size tubing O.D: 1/8", 5/32", 3/16", 1/4", 5/16", 3/8", 1/2", 5/8"
Proof pressure is up to 3.0Mpa (435psi)
All Pneuflex's pneumatic push in fittings are RoHS compliant
Note: this kind of push in fittings are not intended for use in potable water systems. Pneuflex's 316 stainless steel push in fittings and 316L stainless steel push in fittings could be used in potable water systems.
Products of Composite Push in Fittings | Pneumatic Push to Connect Fittings
---
Documents
PDF Catalogue
Applicable Tube O.D
Thread Type and Size
Optional Shapes and Colors for Composite Push in Fittings Release Sleeve
Oval Shape






Round Shape






**Due to light and display, there will be slight color difference.
Want to order push in fittings with your own brand letters?
Pneuflex's professional engineers can assist you to design your brand letters and make molds for plastic injection. Actually, Pneuflex is providing OEM service for some famous fittings brands now.
Applications of Push in Fittings
Push in fittings are widely used in all types of compressed air systems. But composite push in fittings are commonly used in the applications and machines having valves, cylinders, FRLs and other pneumatic elements.