Air Blow Guns, Pneumatic Blow Guns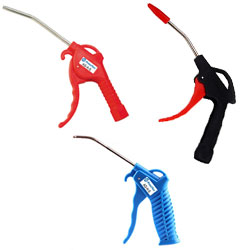 Air blow guns are used for installation on machines and for cleaning debris and particles in a variety of applications. Usually, air blow guns are applied for blowing off and cleaning metal dust, wood cutting dust and automotive dust. Pneuflex provides a range of durable and comfortable guns which have low noise and air consumption.
Pneuflex's air blow guns include:
Plastic body air blow guns.
Metal body air blow guns.
Construction | Specifications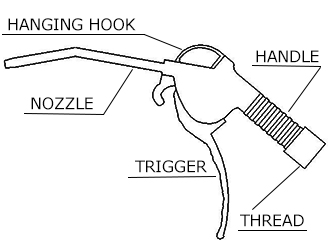 Fluid Admitted: Compressed Air
Working Pressure: 0~1.0MPa | 0~150psi
Proof Pressure: 3.0Mpa | 435psi
Negative Pressure: -100Kpa | -29.5 In Hg
Working Temperature: 0~60°C | 32~140°F
Body(specific product): Technical Polymer / Zinc Alloy / Aluminum
Thread(specific product): Brass / Polymer / Zinc / Aluminum
Nozzle: Treated Steel / Treated Aluminium
Seal, O-ring: NBR