Speed Controllers (Flow Speed Regulators), Flow Control Valves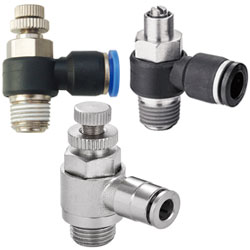 Pneumatic flow control valves (pneumatic speed controllers) equipped with push-in function can regulate air flow to control the operational speed in pneumatic circuit. Push-in function provides the flow control valves for connecting or disconnecting the tubing easily. Flow control valves control flow in one direction, allowing free flow in the opposite direction. A finely threaded stem allows gradual adjustment of the amount of controlled flow passing through the valve. Control-in and Control-out are both available.
Pneuflex's flow control valves have two kinds:
Control-Out (Meter-Out). This is the most commonly used flow control valves that control the exhaust flow from an actuator.
Control-In (Meter-In). This kind of flow control valve is usually used to restrict the flow to an actuator.
Material of flow control valves:
Composite flow control valves.
Full brass flow control valves.
Full Stainless Steel (SS304, SS316, SS316L) flow control valves.