Stop Fittings | Stop Valves | Push in Stop Fittings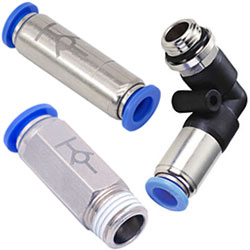 As the name implies, stop valves act as an easy way to stop air from flowing. This solution prevents air flow through valve when tube is disconnected, which can be useful in various scenarios. Great for temporary connections. Simply push the valve fully on to the pipe. Should the need arise, to demount the connection push the collet towards the body of the fitting and pull the pipe to release.
Features of Pneuflex's Stop Valves
Nickel plated brass body and stainless steel tube gripping claws
Available shape of release sleeve in oval and round
Accommodate metric tubing O.D ranging from 4mm to 16mm, inch tubing O.D ranging from 1/8" to 1/2". Thread size range from 1/8" to 1/2"