PU 12 | 12mm Union Straight | 12mm Plastic Push in Fitting
PU 12 union straight connector is a type of 12mm plastic push in fitting (12mm push to connect fitting). PU 12 - 12mm union straight connector is used to connect two 12mm outside diameter pneumatic metric tubings in the same direction.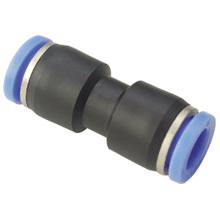 Push-in Tubing O.D: 12mm
Fluid Admitted: Air, Vaccum, Water(no freezing)
Body Material: PBT
Seal, O-ring: NBR
Working Pressure: 0∼1.0MPa | 0∼150psi
Proof Pressure: 3.0Mpa | 435psi
Negative Pressure: -100Kpa | -29.5 In Hg
Working Temperature: 0∼60°C | 32∼140°F
Lock Claw: Stainless Steel(SUS)
Applicable Tube: PU / PA / PE / PVC
Dimensions of 12mm plastic push in fitting union straight connector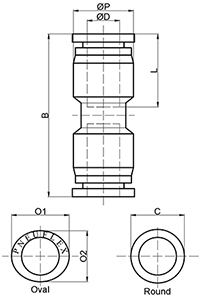 3D Construction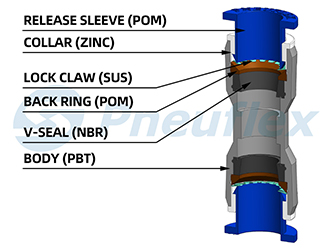 Optional Shapes and Colors of Release Sleeve


Pneuflex is manufacturing 12mm push to connect fittings and 12mm plastic push in fittings in China. Competitive Price !
---
Downloads