PC 06-01 | 6mm x R 1/8 Male Connector | Push in Fitting
6mm tubing BSPT 1/8 thread connector push in fitting connects 6mm tubing to a PT 1/8 female thread. The shape of release sleeve can be oval or round. The body of male connector can be nickle plated brass or natural brass for customers' demand.
External tightened with a flat wrench or socket wrench, internal adjustment with an Allen wrench.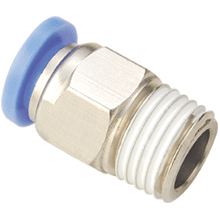 Push-in Tubing O.D: 6mm
Thread Size: R, PT, BSPT 1/8
Fluid Admitted: Air, Vaccum, Water(no freezing)
Body Material: Nickel Plated Brass
Thread Material: Nickle Plated Brass
Thread Sealing: Teflon-coating
Seal, O-ring: NBR
Working Pressure: 0∼1.0MPa | 0∼150psi
Proof Pressure: 3.0Mpa | 435psi
Negative Pressure: -100Kpa | -29.5 In Hg
Working Temperature: 0∼60°C | 32∼140°F
Lock Claw: Stainless Steel(SUS)
Applicable Tube: PU / PA / PE / PVC
Optional Shapes and Colors of Release Sleeve


---
Downloads
Series Catalog
View 3D Model